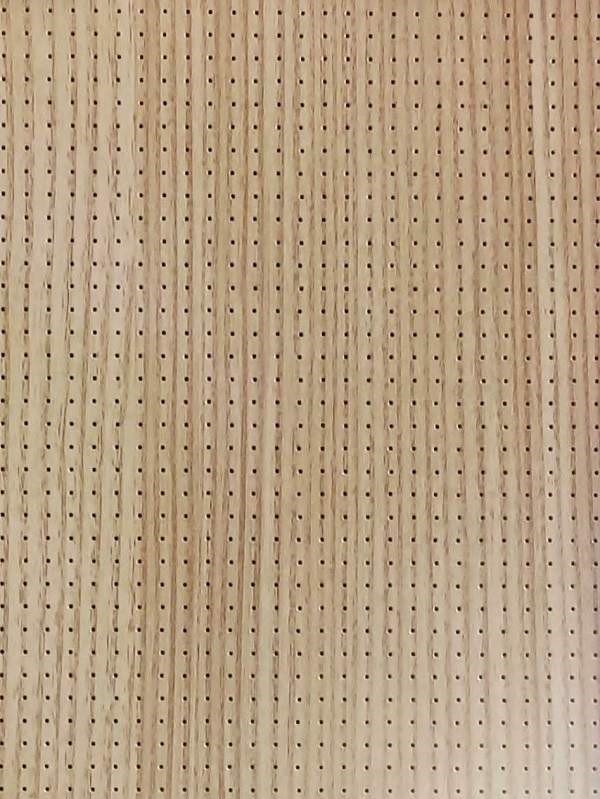 PERFORATED WOODEN ACOUSTIC PANELS, PERFORATED SOUND SLATS, HELMHOLTZ PERFORATED WOODEN PANELS & PERFORATED CEILING PANELS, WOODEN PERFORATED ACOUSTIC WALL AND CEILING PANELS MANUFACTURER.
Envirotech manufacturer of Perforated Wooden Acoustic Panel System provides best NRC value and aesthetically pleasing look for Wall and Ceiling. Wooden Acoustic panel having Perforation design as per acoustic design for controlling the sound reverberation and echo. Envirotech Wooden acoustic Panels are high performance acoustical products with an exceptional visual appearance. Acoustical panels come in a variety of configurations to meet all interior and acoustical requirements, provide balances sound reflection and absorption through perforations. NRC System infilled with 50mm thick Rockwool 48/60kg density to increase sound absorption value as per Acoustic Consultant's design.
The Perforated Wooden Acoustic Panels made of high-density Pre laminated MDF/HDF boards, all joints of wooden acoustic panel have Tongue and Groove Systems or dowel connection to avoid any sagging /unevenness for walls and for ceiling panels have square edge, Micro Look and Tapered Edge over T grid or T24 Grid Systems. The reverse side of each acoustic panel covered with a layer of black acoustic fleece. Perforated Wooden Acoustic Panel to be Installed over wall with aluminum keel with butterfly clip or 1mm thick GI sheet 'Z" clamps as per the site condition or approval of site in charge. GI Studs of 0.50mm thick can be utilised for with 600x900mm framework to create an air gap in between wall and acoustic panels which can be filled with Rockwool, Glasswool or Polyester fibre pads if required as per acoustic designs.
Perforated Acoustic panel supplied in the form of modular slats with special sound absorption characteristics and excellent. Installation result. Acoustic panel system with high technical and aesthetic qualities. At the technical level it has a high absorption coefficient. Aesthetically it has a linear design, elegant and discreet, very suitable for acoustic conditioning that requires a high level. Acoustic correction with high aesthetic level. Applicable to walls and ceilings. Envirotech products have a reputation for reliability as we are dedicated to researching and testing every product from certified laboratories for STC and NRC ratings to suggest best product as per site needs.
Technical Specification of Perforated Wooden Acoustic Panel/Sound Slats
Size of Perforated Wooden Acoustic Panel: 128x2420mm/600x600mm/600x1200mm/ 600x2420mm/1200x2420mm or as per customization.
Perforation Dia Patterns: 3mm/06mm/08mm/10mm or as per choice
Perforation Patterns:Liner or Digonel shape as per choice
Thickness of the Panels 12mm/15mm/16mm/17mm or as per choice
Finish: : Variety of pre laminated board shades with Matt finish, Melamine Glossy Finish. Having 50+ colour option available. Thansau maple, Intal Beach, Mangfall Beech, Bavarian Beech, Natural Teak, Khaya Mahogany, Siam wood, Elegant Teak, Oxford Cherry are some ready stock panels.
Envirotech Systems Perforated Wooden Acoustic Panel made out of Prelaminated 16 mm Thick high density MDF/HDF Board of density 700-800Kg/m3, The Noise Reduction Coefficient (NRC) is a scalar representation of the amount of sound energy absorbed upon striking a particular surface. An NRC of 0 indicates perfect reflection; an NRC of 1 indicates perfect absorption. In particular, it is the average of four sound absorption coefficients of the particular surface at frequencies of 250 Hz, 500 Hz, 1000 Hz, and 8000 Hz. These frequencies encompass the fundamental frequencies and first few overtones of typical human speech, and, therefore, the NRC provides a decent and simple quantification of how well the particular surface will absorb the human voice. A more broad frequency range should be considered for applications such as music or controlling mechanical noise. Specifications for materials used in sound absorption commonly include an NRC. Acoustical materials manufacturers often report NRC values higher than 1.0 due to the way the number is calculated in a laboratory. A test material's area does not include the sides of the panel (which are exposed to the test chamber) which vary due to its thickness. A certain percentage of the sound will be absorbed by the side of the panel due to diffraction effects.
Technical Parameter: -
Core- MDF/HDF
Edge- Tongue and groove/Square both the option available for Wall
Edge- Square Edge, Micro Look or Taperd Edge all the option available for Ceiling
Density- 700-800kg/m3
NRC Value-0.90
RH- 70
Fire Rating- Class 1 & P
Light Reflection-Colour Dependent
Application
Auditoriums, Conference Rooms, Cinema Halls, Theatres, Music Hall, Stadium, Lecture Hall, Library, Multi-function Hall, Hotels, Museums, Meeting Rooms, Business office and other public places.