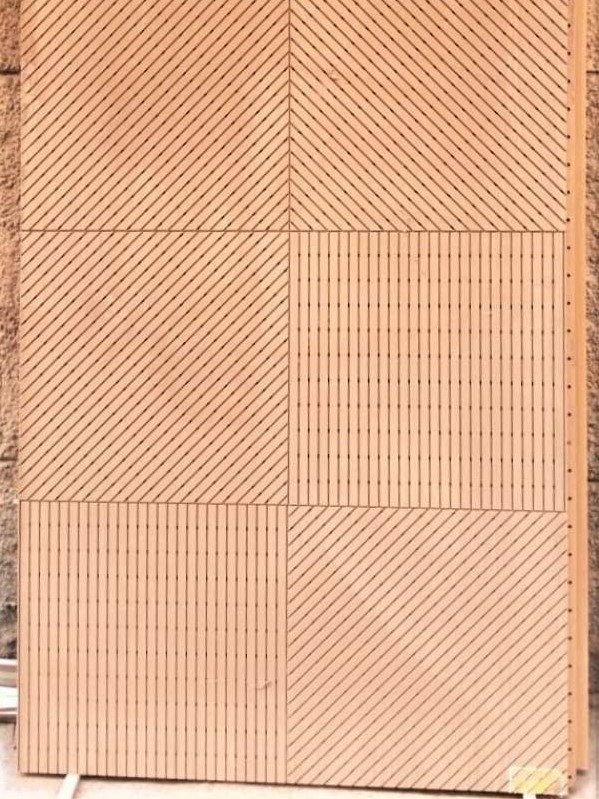 GROOVED WOODEN SLATS, SOUND SLATS, HELMHOLTZ PERFORATED WOODEN SLATS & WOODEN GROOVED ACOUSTIC WALL PANELS MANUFACTURER.
Envirotech Systems manufacturer of Grooved Wooden Acoustic Panel System provides best NRC value and aesthetically pleasing look for Wall and Ceiling. Wooden Acoustic panel having combination of Grooved and Helmholtz perforation for controlling the sound reverberation and echo. Envirotech Wooden acoustic Panels are high performance acoustical products with an exceptional visual appearance. Grooved Wooden Acoustical panels come in a variety of configurations to meet all interior and acoustical requirements, provide balances sound reflection and absorption through groove and perforations. NRC System infilled with 50mm thick Rockwool 48/60kg density to increase sound absorption value as per Acoustic Consultant's design.
The Grooved Wooden Acoustic Panels made of high-density Pre laminated MDF/HDF boards, all joints of wooden acoustic panel have Tongue and Groove Systems or dowel connection to avoid any sagging /unevenness. This ensures consistent quality for each panel on every project. The reverse side of each acoustic panel covered with a layer of black acoustic fleece. Grooved wooden slats to be Installed over aluminium keel with butterfly clip or 1mm thick GI sheet 'Z" clamps or Headless nails as per the site condition or approval of site in charge. GI Studs of 0.50mm thick can be utilised for with 600x900mm framework to create an air gap in between wall and acoustic panels which can be filled with Rockwool, Glasswool or Polyester fibre pads if required as per acoustic designs.
Technical Specification of Grooved Wooden Slats/Sound Slats
Size of Grooved Wooden Acoustic Panel: 128x2420mm/192x2440mm/575x2420mm/1200x2420mm or as per customization.
Thickness of the Panels 15mm/16mm/17mm or as per choice
Finish: Variety of pre laminated board shades with Matt finish, Melamine Glossy Finish. Having 50+ colour option available. Thansau maple, Intal Beach, Mangfall Beech, Bavarian Beech, Natural Teak, Khaya Mahogany, Siam wood, Elegant Teak, Oxford Cherry are some ready stock panels.
Patterns: 14/2, 28/2, 32/2, 56/2, 16/2, 14/3.2, 28/3.2, 56/3.2mm
Envirotech Grooved Wooden Slats made out of Prelaminated 16 mm Thick high density MDF/HDF Board of density 700-800Kg/m3, acoustic panel size will be: 128mm x 2440 mm, Groove Size 2-4mm at an interval of 28 mm c/c as per acoustic design, The wooden acoustic panels to be backed with black acoustic fleece. The grooved acoustic panel laminated in desired shade as per Engineer In charge / Architect's approval. The GI Grid channel 50 x 32mm thick made out of GI sheet, 0.5 mm thick covered with Ply strip and then utilised headless nails for final finish. The grid size will be – 600 x 900mm fixed to wall using screws. Cavity of grid shall be filled with 50mm thick compressed Rockwool tile of 48kg/m3 confirming to IS8183 as infill..
Technical Parameter: -
Core- MDF/HDF
Edge- Tongue and groove/Square both the option available
Density- 700-800kg/m3
NRC Value-0.90
RH- 70
Fire Rating- Class 1 & P
Light Reflection- Colour Dependent
Application
Auditorium, Cinema hall , Theaters, Music hall, Stadium, Lecture Hall, , Library, Multi-function hall, Hotel, Museum , Meeting rooms, Conference Hall, Business office and other public places.