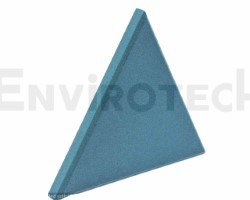 ENVIROTECH FABLAM 2.0 Manufacturer Supplier in PAN India.
ENVIROTECH FABLAM 2.0 APPLICATIONS : Acoustic correction. Applicable to walls and ceilings.
FABLAM 2.0 are 25 and 50 mm thick Fabric Infused PU foam Panels for wall as well as ceiling. The panels are chemically infused with fabric of a pattern of client's choice. These panels shall be fixed on the wall by self-adhesive tapes which come along with the panels.
Being a non-fibrous panel, there is no hazardous/cancer causing material used in the panels.
The product gives an excellent sound absorbing coefficient by diffused field method as per IS: 8225-1987 equivalent to ISO: 354-1985 and ASTM 423-90 – sub div. #5.07/A/Doc.3/TP#14
The panels have a structure which is specially engineered to absorb sound by means of reverberation. The sound waves enter the absorbers and loose energy, which results into absorption. These PU foam based panels are in a special shaped convolution that is ideal to control sound reverberation inside any area. Their extreme thickness / shape force the noise wave to travel several more times through the material before it can escape. This creates maximum dissipation. The convoluted surface of the absorbers increases the surface area and hence increases the noise reduction co-efficient. The product comply with UL-94 HF-1 category of fire retardancy. The product have a tensile strength of 1.05 tested as per IS -7888.