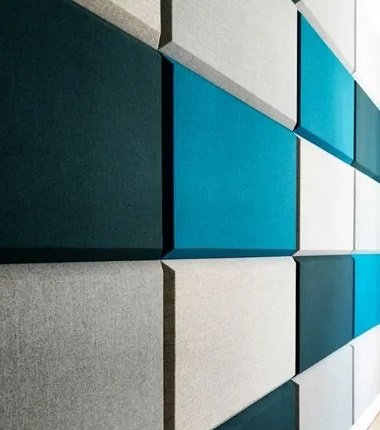 Envirotech is a leading Manufacturer of Decorative Polyester board / Echo Boards.
There are two major difference between what we are manufacturing and what other players are giving in the market:
1. We are selling 200kgs/m3 + Density, others are selling 150kgs Density.
2. The Lusture, brightness, Color sharpness we have, is not there in any other supplier.
3. Our Boards are very stiff as compared to any other.
Material: Polyester Fiber
Surface: Standard, Grooved and Printed
Standard size & thickness: 1220*2420 * 9mm & 12mm
» Noise absorption coefficient: NRC=0.85. It has high sound absorption and noise reduction characteristics.
» Formaldehyde emission: It is a green material with asbestos-free, non-toxic and tasteless gas under extreme temperature, protecting the ozone layer, non-irritant and recyclable.
» Good insulation properties, to prevent transmitting the heat from outdoor to indoor directly as partition or and ceiling, saving 35% of energy, extending the life of air conditioning.
» Light weight and free cutting, a variety of colors with simple corner treatment, different shape and any pattern styles can easily reflected.
» Soft, natural texture, will not broken under the huge impact of high elasticity
» Simple maintenance, easy dust removal by vacuum cleaner or feather duster, spot can be cleaned by wet towel or cleaner.
Applications : It can be used at any project need acoustical solution such as recording studios, cafeterias, KTV rooms, offices also auditorium ,plants and universities