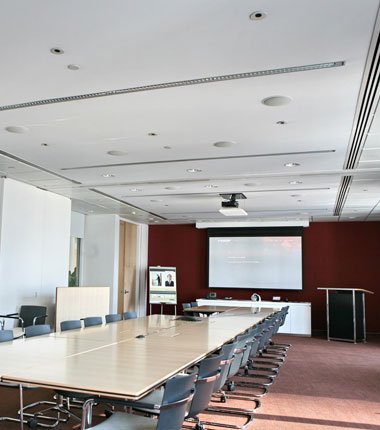 Productive employees best workplaces!, Office Acoustics, Office Acoustic Panels, Office Acoustics Wall Panels, Office Acoustics Soundproofing
Envirotech Systems Limited is a leading manufacturer and supplier of Office Acoustic Panels. Our company is dedicated to providing high-quality solutions for reducing noise levels and enhancing acoustic performance in workplaces.
Envirotech Systems Limited offers a range of office acoustic panels designed to address these challenges. Our panels are specifically engineered to absorb sound waves effectively, minimizing echoes and reverberations and creating a quieter and more comfortable work atmosphere. We offer a diverse selection of Office Acoustic Panels, available in various materials to suit both functional and aesthetic requirements. Whether you prefer the timeless elegance of wood, the sleekness of metal, or the versatility of fabric, our panels can seamlessly integrate into your office decor. Additionally, we provide foam and polyester fiber panels for those seeking exceptional sound absorption capabilities.
Office Acoustic Panels are designed for easy installation and flexibility. They can be effortlessly mounted on walls or ceilings, allowing you to optimize their placement for maximum noise reduction. Moreover, these panels can also serve as acoustic screens, effectively dividing your workspace and providing privacy and concentration while minimizing distractions.
When you choose Envirotech Systems Limited as your supplier, you can expect superior craftsmanship, reliable performance, and excellent customer service. We value long-lasting relationships with our clients and are here to offer expert advice and guidance throughout the selection and installation process.
Invest in the acoustic well-being of your workplace with Envirotech Systems Limited's Office Acoustic Panels. Experience the transformative impact they can have on creating a calmer, more productive office environment. Contact us today to learn more about our products and how we can help you create a haven of tranquillity and efficiency in your workspace.