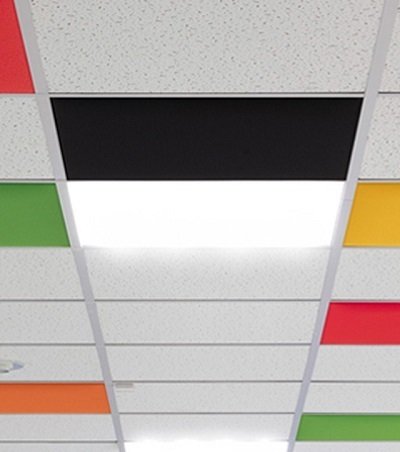 Envirotech is a leading Manufacturer of Ceiling Acoustic Panels | Acoustic Ceiling Panels | Acoustic Wall Panels
Envirotech Systems Manufacturer of Ceiling Acoustic Panels, and Acoustic Wall Panels are an innovative method of absorbing reverberant & noise in rooms without the visual appearance of just another one of those boring suspended ceilings.The stunning visual effect of acoustic 'clouds' on a ceiling space leaves an occupant or visitor with an impression of flair and forward thinking on behalf of the designer of the room or hall.
The installation time is fast as the Envirotech Systems Acoustic Panels are simply suspended by steel wires from the soffit by means of special spiral hooks which are fitted in the rear of the acoustic panels. Also, this means that non-specialist fitters can be used to carry out the installation.
The depth in suspension is simply adjusted by adjusting the length of the steel suspension wire. This also allows the panels to be installed at sloping angles if required, again adding to the visual design possibilities.
Technical Specification
Ceiling Acoustic Panels having 6mm thickness and made of Cement Fiber, Glass Fiber Tissue Paper finish. Ceiling Acoustic Panels available in sizes 595x595x6mm with square edge density 1050kg/m3 and having 10/15mm Dia perforation covered with Absorptive Microfiber Coating on the front side and Black Colour Acoustics Fleece on the back side, thus making it Acoustically Absorptive, Water Resistant, Fire Resistant, Termite Resistant, Acoustic panels can be backed with 50mm Thick Insulation Wool. Acoustic Ceiling Panel having NRC Value up to 0.70. The tiles are anti sag and are to be installed on T24 grid system of 0.6mm thick, Main 'T' length minimum 3000mm, web minimum 35mm to be placed at 600mm centre to centre and secondary cross 'T' of length 600mm, web minimum 35 mm, inter locked, Wire Support for Main T to be taken at every 1200mm length wise and 600mm width wise, specially designed for Acoustic Vibration management and long life. The Panels can be painted in any colour as per Consultant / Architect's choice.